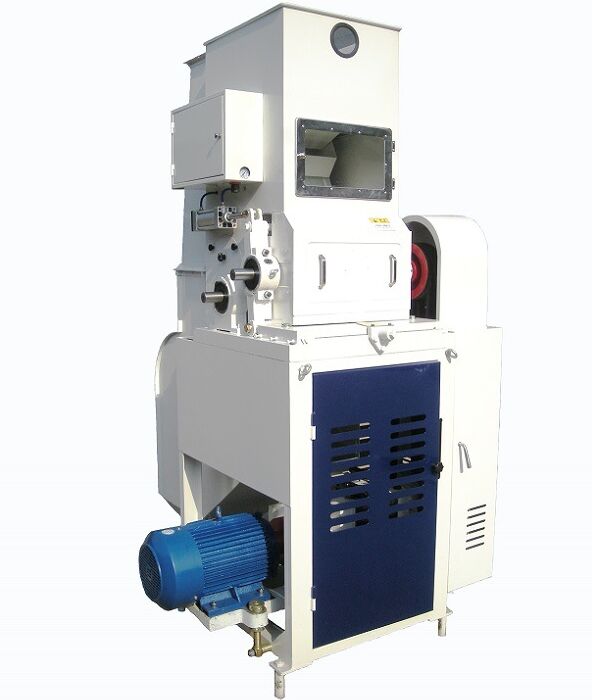 MLGQ-C series Gas Pressure Automatic Rubber Roller Paddy Rice Husker Machine uses the novel vibrated feed system and the vibration frequency can undergo stepless adjustment in light with difference in grain types and outputs, thus realizing the ideal technological effects of high output, low electricity consumption and low rubber consumption.
The rubber roller rice husk separator features:
1. Compact size, robust design, fully sealed structure, low noise.
2. Enhanced vibrating feeder improves the uniformity and speed of paddy grains getting into hulling rolls, hence it increases the capacity.
3. Low rubber wears due to an improved feeding system and the automatic, continuous control of the husking pressure.
4. Transmission consists of gearbox and V belt, no removal is needed after the new rubber roller is fixed and used up.
5. The pneumatic control system maintains a constant pressure between the rubber rolls, which helps to ensure a uniform husking ratio.
6. Paddy husks can be highly separated by air suction and vertical air channel.
7. Easy to assemble and disassemble rollers, easy to operate.

MLGQ-C Gas Pressure Automatic Rubber Roller Paddy Rice Husker Main Technical Parameters:
Model

MLGQ25-C

MLGQ36-C

MLGQ51-C

Capacity(t/h)

3.5~5

5~7

7~10

Grain content in hulls
(grains in 100kg hulls)

≤30

Air volume(m3/h)

4000

4800

5600

Power(kW)

7.5

7.5~11

11~15

Exterior size
(L×W×H,mm)

880×1280
×2002

1210×1400
×2200

1344×1400
×2200
Wintone sells rubber roller paddy hullers with high quality and best service. Customers can buy rice husker machines from our factory. The paddy huller price is competitive with other rubber roller paddy huller manufactures.
~~~~~~~~~~~~~~~~~~~~~~~~~~~~~~~~~~~~~~~~~~~~~~~~~~~~~~~~~~~~~~~~~~~~~~~~~~~~~~~~~~~~~~~~~~~~~~~~~~~~
Our Factory
Cases
Exhibition

Customer Visit:
Sales Team