Rice Processing Equipment
Q50-C Series Rice Color Sorter for Sale
Manufacturer:

WinTone Machinery

Customization:

Can be customized

Whether it is in stock:

please ask customer service for real-time query

Production cycle:

3-15 days for different equipment

Delivery method:

land and sea

Price:

Please consult customer service for the latest quotation
E-mail
Chat
Inquiry
Product Information
Sorting Comparison Pictures for Q50-C Series Rice Color Sorter for Sale: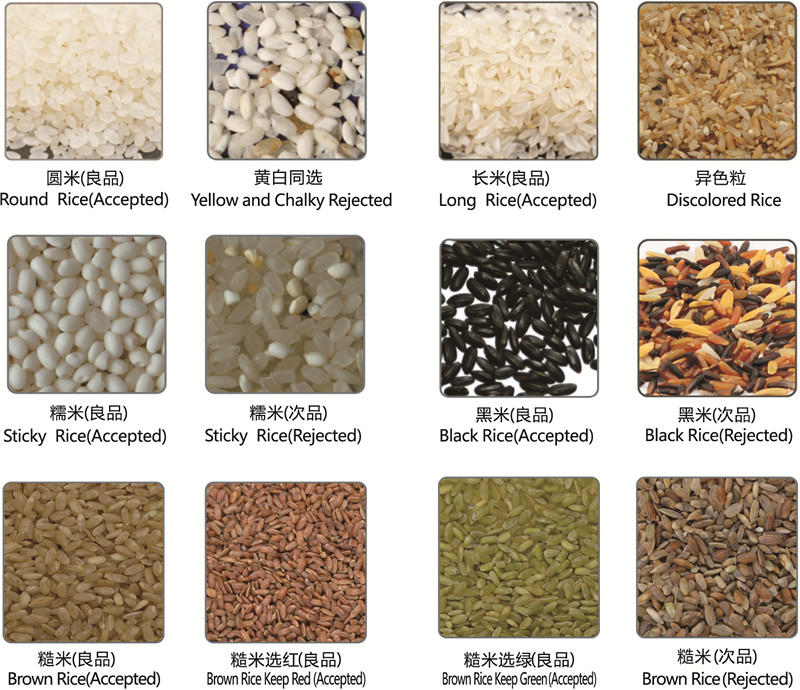 Model and Specification of Q50-C Series Rice Color Sorter for Sale:


Rice Color Sorter Q50-C Series

Model

Throughput(T/h)

Sorting Accuracy(%)

Optimized carryover

Power(kw)

Supply

Dimension L*W*H(mm)

Weight(kg)

Q550c

3-14

≥99.99

>50:1

3.2

220V/50HZ

2290*1560*1794

1150

Q750c

5-18

≥99.99

>50:1

4.5

220V/50HZ

2970*1560*1794

1500

Q1050c

7-28

≥99.99

>50:1

6.5

220V/50HZ

4100*1575*1815

2500
Note: Subject to different raw materials and different impurities percentage in raw materials.
Core Technology:
1. The imported and high-end 2048CCD sensor with super high resolution
2.The perfect ARM+FPGA hardware system
3. The new high-frequency solenoid valve exclusive to color sorter ensures high sorting accuracy nearly to zero error.
4. The industry-leading intelligent spectrum response of image analyzing and processing technology
5. The industry leading LED optical design system is added infrared source
6. Double gas paths structure can work stably even with high impurity
7. Scientific and efficient ventilation cooling system with dedusting and filterable function.
8. Automatic fault detection
---
Our Factory
Cases
Exhibition

Customer Visit:
Sales Team
INQUIRY
Get In Touch
Don't Hesited To Conatct With WinTone