TQSF gravity grading destoner is widely used in the flour milling, rice milling, feed and food processing industries. The material stream is stratified automatically on the working screen according to materials with different physical characteristics such as gravity, volumetric weight, coefficient of friction and suspension velocity etc. High density impurities such as stones can be reliable removal from a continuous material stream with high efficiency.
TQSF gravity grading stoning machine work principle:
Material is delivered into the first screen through intake point, adjusting panel, and cloth tube. Aspiration Channel adjusts wind volume by adjusting handle, so that two inverted rotation Vibration motor do reciprocating motion to make material grade: light material flows into discharge along the first layer screen, and heavy material and sand falls into the second screen, as result heavy material separate from sand, heavy material flows into discharge .but sand flows into the entrance of stone.
TQSF gravity rice destoning machine main features:
1.Nice effects of grading stone-relieving and low energy consumption;
2.Non-dust spreading, low noise and stable operation;
3.Uses double electrical machine vibration of high production efficiency;
4.Suitable for stone relieving of unhusked rice, wheat and corns after cleaning.




TQSF Gravity Grading Destoner Main Technical Parameters:
Model

TQSF63

TQSF80

TQSF100

TQSF125

Capacity(t/h)

3~6

6~9

8~12

11~7

Power(kW)

0.25×2

0.37×2

Air volume(m3/h)

5000

6000

8000

12000

Exterior size(L×W×H,mm)

1350×860
×1800

1350×1050
×1800

1400×1250
×1920

1460×1500
×1940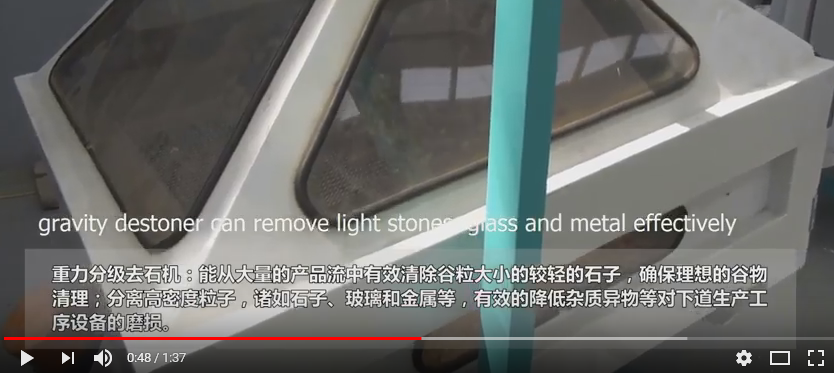 ~~~~~~~~~~~~~~~~~~~~~~~~~~~~~~~~~~~~~~~~~~~~~~~~~~~~~~~~~~~~~~~~~~~~~~~~~~~~~~~~~~~~~~~~~~~~~~~~~~~~
Our Factory
Cases
Exhibition

Customer Visit:
Sales Team