July 10, Canadian customers in China, Henan Wantong ordered the daily processing 100 tons of lentil production line equipment, today smooth delivery.
Earlier this year, Canadian customers visited China Henan Wantong put into operation in Ethiopia lentil production line, after careful investigation and on-site test machine, eventually signed with China Henan Wantong daily processing 100 tons lentil production line.
Clients that in the future this will be the production line as an opportunity to promote Canada's domestic food processing enterprises, Henan Wantong and deeper cooperation. July 10, China Henan Wantong master workers under the scorching sun will soon be sent to Canada 100 tons lentil production line equipment loading shipments, in order to better take advantage of the container space and save on shipping, the customer himself into battle with chefs completed the four containers of cargo, containers full of four will enter the port of Qingdao, Qingdao sent to Canada! Completion of the project will be one of Canada's high standards and even global, high specification lentil processing line.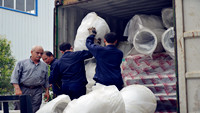 Canada 100 tons lentil production line mainly covers cleaning, peeling, selection, four charter flight section. Having the use of floor structure, high degree of automation, and good quality finished products. Canadian customers can recall the original approval, Henan Wantong processing complete production line, thanks to word of mouth, Henan Wantong benefit in 2006 the construction of Ethiopia's 40 tons lentil project. Let Huayu MassMutual from home and abroad including the United States and European engineering company stand out, successfully won orders.
Companies in customer satisfaction for the three basic principles: "satisfaction with product quality, advanced technology satisfaction, service satisfaction," the news of frequent international market, has in Africa, the Middle East, South Asia, the construction of a number of local cereals processing line . This again excellent products, quality services to enter the North American market. This is Chinese-made quality benchmark to go abroad, my company has 20 years of experience in production-related products, has a professional technical team and installation service teams to provide oil and gas production design, equipment supply, technical installation and other train services, and oil and gas drainage equipment one-stop shopping service.