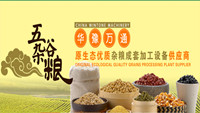 Liao Ning Yufeng Agricultural Science and Technology Co., Ltd. has ordered grains powder production line equipment on July 15 smooth delivery. Since the signing, under the leadership of elaborate production center, production and technical personnel order to overcome many difficulties tight, take the initiative to give up their rest time, and consciously work overtime, according to the contract and customer requirements, careful manufacturing, quality and quantity of completed equipment manufacturing, ensuring the normal delivery of the product.
China has a "medical food source," saying that the medicinal properties of whole grains can be used to prevent disease, also called coarse grains, rich in nutrients, it is a traditional rations, and is an ideal health food. With the social progress and accelerated pace of life, a healthy diet, balanced diet the gradual deepening of the concept of modern thinking.
In order to ensure healthy and sustainable development of the food industry, we are adhering to the "healthy ingredients development", "balanced diet" concept, in the health ingredients, processing machinery and equipment to do a lot of development in the field of investment, to promote the development of modern grains processing industry has laid a basis. Through our constant innovation, the company has gradually formed a resource-based integrated grains processing unique business model.
Our production lines adhere to the "do not destroy, without adding" principle, retains the raw materials rich in dietary fiber, vitamins, proteins, minerals, flavonoids and other health elements, combined with a high level of domestic cereals production lines and improve the finishing auxiliary production equipment. "High-quality products for customers to create new growth and value" as the goal, strive to provide customers with comprehensive solutions for grains processing complete sets of engineering and process technology services.